News
RSUD dr Iskak Tulungagung Achieved Gold Award IHF 2019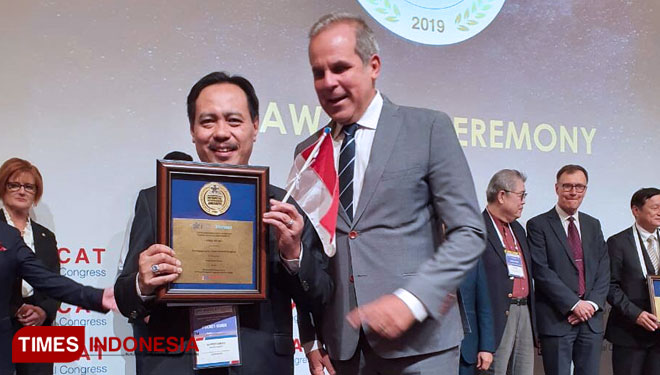 TIMESMALAYSIA, TULUNGAGUNG – Tulungagung General Hospital a.k.a RSUD dr Iskak Tulungagung achieved Gold Award IHf 2019 on 43th International Hospital Federation Congress and Award on November 8th 2019.
This event was held in Oman Convention and Exhibition Centre Muscat, United Arab Emirat. As the Chief of the hospital, Dr Supriyanto proudly represent himself as the representative of the hospital and proudly received the award for the hospital.
The Public Relation of RSUD dr Iskak, H. Moh. Rifai who accompany the chief in taking the award said that they both are so proud to be there. It was a remarkable achievement for their hospital to reach such a level.
"This will make us compete more to raise our services to the patients and show them that it's all because of them too that we could reach this level," Moh. Rifai said on Sunday (10/11/2019).
To achieve the award the general hospital was considered to be successful enough in giving a good service to their patients for low to medium level which using public insurance. 85% of their patient were coming from this level.
In fact, RSUD dr Iskak never treat their patient differently. They treated them the same as they treated their private patient with no insurance.
This General hospital of Tulungagung a.k.a RSUD dr Iskak Tulungagung even gives free services for poor people who couldn't afford their service. No wonder that they were granted with the Gold Award IHF 2019.(*)