Travel
Enjoy Various Menu of Satay at Aston Denpasar Hotel & Convention Center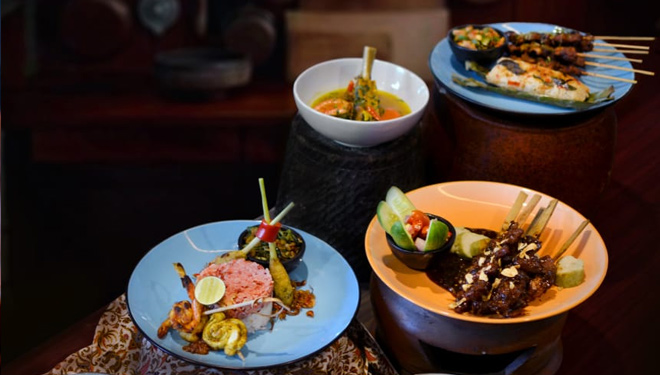 TIMESMALAYSIA, DENPASAR – Jempiring Restaurant, which is located on the second floor of Aston Denpasar Hotel & Convention Center, serves various menu of satay with the theme of Satay Lovers, starting from the upcoming July to September.
The Executive Chef, Komang Aryana, along with his professional team, shows their skills in creating various menu of satay from three different regions, such as Sate Rembiga – a characteristic satay menu from Lombok, which made of beef with indigenous herbs. This satay is served with gravy and Sayur Beberuk.
There is Sate Kambing Madura (mutton satay) with peanut sauce, which is served with rice cake and Gulai.
The next satay menu is Sate Sari Laut from Bali (Balinese seafood satay), which consists of shrimp satay, squid satay, and Satay Lilit Ikan (fish satay). This satay is served with Urap-urap, meatballs, red rice and cassava rice.
This Chef's Delight Promotion is affordable, starting from IDR 70,000 per person, including the dessert. Do not forget Sate Pelangi, which made of colorful cassava balls served with savory grated coconut.
"Our bartender has provided three choices of refreshing beverage, such as mango blended with caramel, vanilla, sprite and ice cube, which is called as Jaipong." Said Ady Suardi, the Restaurant & Banquet Manager in Aston Denpasar Hotel & Convention Center on Monday (10/06/2019).
"For those who like colorful beverage made of lychee, orange, eggplant, and sprite, you can try Gandrung. The next choice is Maranggi, which is made of lemongrass, lemon, simple syrup, and sprite." He said.
This satay menu offer is valid from July to September 2019, available on Jempiring Restaurant in Aston Denpasar Hotel & Convention Center for lunch, dinner, and in-room dining. For further information and reservation, please contact 0361 – 411999 or follow the social media at Twitter @AstonDenpasarID, Instagram @AstonDenpasar, and Facebook @Aston Denpasar Hotel & Convention Center. (*)