Life Style
The First Bali Food and Wine Festival by Rumah Luwih, How Does It Looks?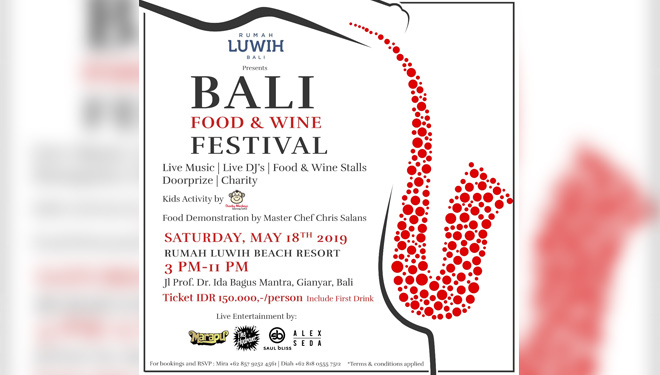 TIMESMALAYSIA, GIANYAR – Rumah Luwih held their first Festival Bali Food & Wine at Rumah Luwih Beach Resort, Lebih, Gianyar, Bali, on Saturday (18/5/2019). This is the first Bali Food & Wine Festival they ever conduct since then.
"There are lots of wonderful local food and world class wine, chocolate, cheese, coffee and mineral water presented in this Festival. We try to take the visitors to try the Rumah Luwih Beach Resort life style," Suananda General Manager of Rumah Luwih said.
The festival which was started from 15.00 to 23.00 Local Eastern Time also allowing the visitors to taste the food and enjoying a sip of wine from Hattens, Sababay, Isola, or Plaga while enjoying the live music they provided. Top group band from Bali like Marapu, Hydrant, DJ Alex Seda & Saul Bliss.
The ticket for this Festival was so affordable. The visitor need only to spend around IDR 150 K for the admission fee which included free drink and a coupon to to win an interesting prize. The visitors also presented with life cooking demo from celebrities chef "Chef Chris Salans" of Mozaic Gastronomique & Spice.
"We have a plan to make this Festival to be an annual event. Bali Food & Wine Festival at Rumah Luwih will become a right venue to introduce the Lebih Beach, Gianyar, Bali as well to introduce the local wisdom through its food and music," Suananda added. (*)