Travel
Malang Night Paradise Hawai Waterpark Recommended 5 Stars from iGuides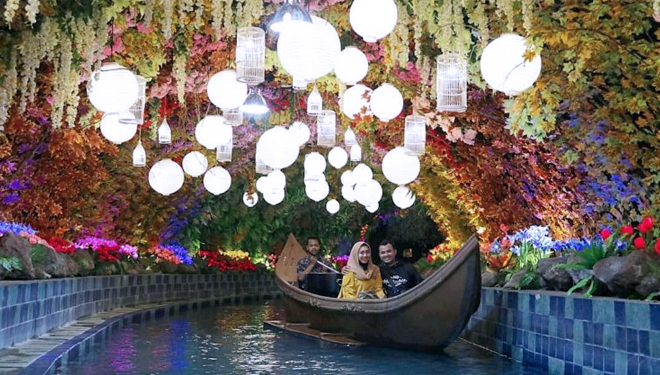 TIMESMALAYSIA, MALANG – For you who would like to have lots of selfie, Malang Night Paradise (MNP) is the perfect place for you. This educational theme which is very suitable for you and your family is worth to be considered to get 5 stars rated from iGuides Times Indonesia and also indexed on Indonesia's Recommendation Index (IRX).
Malang Night Paradise which is stated to open on 18.00 to 23.00 situated next to Hawai Waterpark. Its sophisticated technology combined with beautiful art gave a unique way of education to their visitors.
There are lots of interesting spots like mushroom park, beautiful peacock, Dancing Fountain, grace goose, funny panda, windmill, tulip, and Coliseum. There is also a Magic Journey area which will take you to an unforgetable adventures like Castle, Forest, Avatar, Park, Venice-like spot, Japanese, Thailand, the Kalimantan island and lighting tunnel.
"This is one recommended place for you to visit with your family especially for your kids. Lots of educational tourism attraction like the Dinosaurus replicas, starting from T-Rex, Parasaurolophus, to Anklyosaurus. And it has a marvelous accomodation other than the attraction," Ye Rachma, the secretary and iGuides TIMES Indonesia team reviewer said.
iGuides reviewer is affiliated with TripAdvisor, iGuides, Agoda, Pegi pegi, Traveloka, Booking, Foursquare, AirBnB, Facebook, Youtube, dan Google Local Guide. Their review will become a consideration foriGuides to put this tourism site into Indonesia's Recommendation Index (IRX).
"This is remarkable. You could do a selfie on every corner of it. And the combination between the Education and technology make it more interesting. The Lampion garden, The Dinosaurus park, Magic Journey, Twister robotic, everything is perfect," Ali Malaadi, Google Local Guide user said.
All those reason stated above makes Malang Night Paradise worth to be be given 5 stars rated from iGuides TIMES Indonesia team reviewer and indexed at Indonesia's Recommendation Index (IRX). Congratulation. (*)