News
Disparbud Malang Promotes the Tourism Potential of Peniwen Village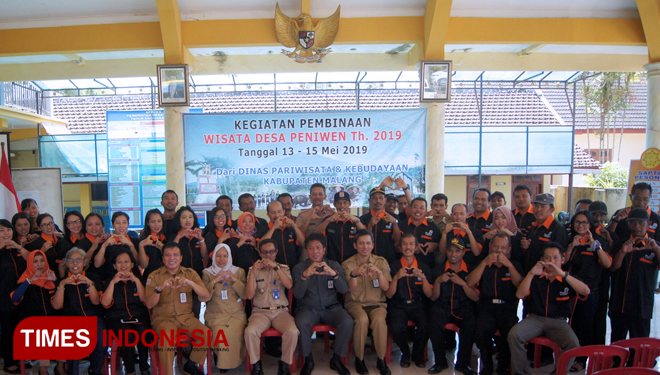 TIMESMALAYSIA, MALANG – Peniwen Village, Kromengan sub-district, Malang, has an extraordinary potential. That's why, Disparbud Malang focuses on developing the tourism in this village.
One of the methods done by Disparbud Malang to develop the tourism of this village is by giving a training to dozens of tourism business owners in this village, on Tuesday (14/5/2019). This training was held in the hall of Peniwen Village.
"In this training, I invited three chairmen of the board in the Tourism Office. This training aims to develop the tourism sector in this village," said the Head of Disparbud Malang, Made Arya Wedanthara to TIMES Indonesia.
He claimed that Peniwen Village has been well-known in public. There has been numerous local and international tourists visiting this village. There are hundreds of visitors in each month.
"I appreciate the effort of Peniwen Village to develop the tourism on their own by building hundreds of homestays in this village," said Made.
Besides, there has been various religious and cultural events held in Peniwen Village, such as the event of Babad Peniwen, traditional games, and Christian Mass. "There are two tourism objects that are always visited by tourists when they are having vacation in Peniwen Village, namely Peniwen Affair Monument and Old Church. These two places will be promoted," said Made.
"Peniwen Affair Moniment is one of the two monuments approved by Palang Merah Internasional," he added. Those two places, natural potential, and the local wisdom of the residents would be promoted by Disparbud as an effort to develop Peniwen Village.
According to him, Disparbud Malang and the tourism business owners in this village cooperate in ths training in order to find the right formula to develop Peniwen Village. "The formula could be in form of tourism packages that could be offered to the tourists when they are having a vacation in this village. However, we still find out the other formulas to develop this tourism village," he said.
Furthermore, he also expected that this training could improve the quality of the human resources in Peniwen Village. In this opportunity, Disparbud Malang also gave some tourism equipment to the Pokdarwis (Tourism Awareness Group) and the tourism business owners in Peniwen Village. (*)