News
Rice Terrace Tourism in Jambuwer Village in Malang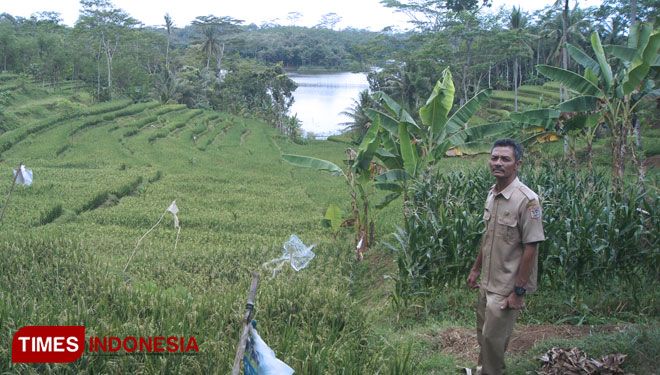 TIMESMALAYSIA, MALANG – Jambuwer Village, Kromengan sub-district, Malang, has an extraordinary nature tourism, such as the rice terraces like the one in Ubud, Bali.
The scenery around this place is picturesque. You can see the beautiful scenery of the hills and Selorejo Dam from the distance.
Currently, the village and the Office of Culture and Tourism of Malang (Disparbud Malang) are improving this area to attract more visitors.
Most people or tourists do not know the way to reach the rice terraces in Jambuwer Village.
The access is still difficult with the narrow and bumpy road. But it is suitable for the adventurers.
Although the road is bumpy, it can be accessed by four-wheeled vehicles and two-wheeled vehicles. After passing the challenging road, the visitors will be captivated by the breathtaking scenery of the green rice terraces.
"The Head of Disparbud Malang has visited this location. He promised that he would help us improve this tourism destination," said the Village Head of Jambuwer, Tuwuhadi, to TIMES Indonesia on Tuesday (14/05/2019).
Tuwuhadi explained that most of the rice fields in this village are terraced. He knew that rice terraces have become a popular tourism destination in Bali. That's why he also wants to develop the one in his village.
"We only need to optimize the potential. The rice fields in this location have been used for several times by the tourists to hold some interesting tourism events, such as the event of planting rice for children." He said.
Besides, this place is often visited by photographers who like to hunt for photos in the rice terraces area. "The special place in our village is Selorejo Dam. From the distance, you can see the beauty of the rice terraces and the dam," he said.
The village will also use the dam to hold rowing race or fishing competition. "The dam and the area belong to Jasa Tirta," he said.
According to him, the village has communicated with Jasa Tirta to use the dam for the tourism events organized by the village.
"The potential of the dam could be an additional value for our village. Now, we focus on developing the rice terraces for tourism purpose," he explained. "There will be some spots for taking selfie and more facilities."
Tuwuhadi is sure that the rice terraces are going to be a good potential as a contribution to tourism objects in Malang. (*)