Education
Math Olympics Gamma II East Sumba Take the Students to Love Math more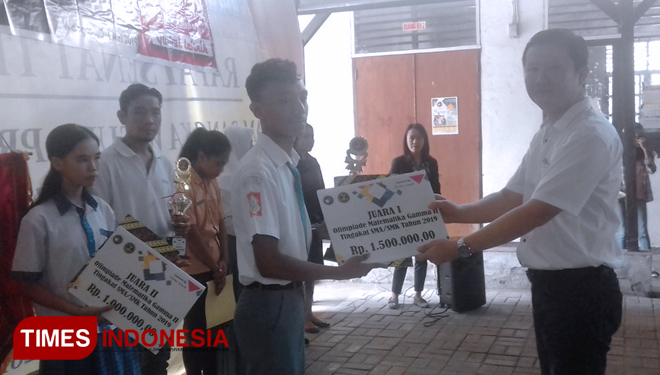 TIMESMALAYSIA, SUMBA TIMUR – There was an epic scenery at Universitas Kristen Wira Wacana (Unkriswina) Sumba. Several students line up in front of the audience receiving some trophy as their award on winning the Math Olympics Gamma II which was held on May 04, 2019.
There are around 6 students of senior and junior high level who able to be the winner on the event. Yesaya Putra Dappa Ole from SMA Negeri I Waingapu on the 1st position; Theodosia Lena Leba from SMA Katholik Andaluri on the 2nd position; and Choiriyah R. R Ayub from SMA Negeri II Waingapu on the 3rd position for senior high level.
Meanwhile, at the junior high there are Firtson U.L Amah from SMP Negeri I Waingapu on the 1st position; Fangky Y Nggalu from SMP Kristen St. Yosef Freinademetz on the 2nd position; Aprilia Kale from SMP Negeri Satap Padamu on the 3rd position.
"In the meantime, I hope there will be more students or schools participating in this event, and make them more interested in math and enjoy it," Ketua Program Studi Pendidikan Matematika Unkriswina Sumba NTT Erwin Randjawali, S.Pd, M.Si said on Saturday (11/5/2019).
However, for those who have won the Math Olympics Gamma II Sumba was hope that they will maintain nd enlarge their skill in math. And spread their love of math to another students. In the future, this event surey will need more support from the community or government to participate on the event. (*)