Travel
Get Balinese Traditional Food for Your Break Fasting Meal at Ubud Hotel Malang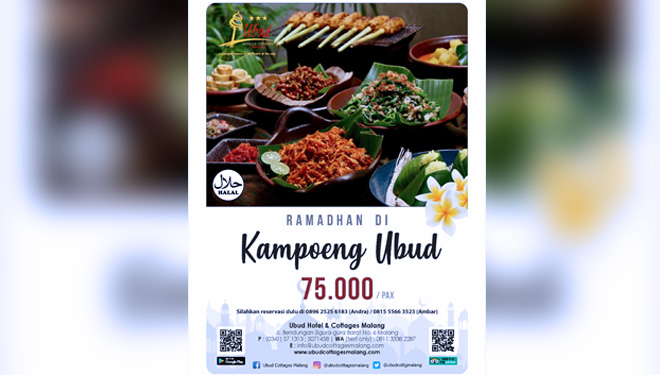 TIMESMALAYSIA, MALANG – As the only star rated hotel at Malang which presenting Balinese culture, Ubud Hotel and Cottages offers you Ramadhan package with traditional Balinese cuisine for your break fasting time.
"Balinese, Sundanese, Javanese. We will provide all of the customers with many traditional food in buffet style. All you can eat," Samrodin Executive Chef Ubud Hotel and Cottages said.
Samrodin menambahkan bahwa konsep yang dibawa di bulan suci ini adalah kebersamaan. Selain kebersamaan, tambahnya, pengunjung juga bisa menikmati keindahan view Bali ala Ubud Hotel yang instagramable.
You can get all you can eat buffet for IDR 75 K per person. There will be lots of different theme on each day like Monday for Kampung Jimbaran, Tuesday Kampung Gianyar, Wednesday Kampung Kecak, Thursday Kampung Jawa Doeloe, Friday Kampung Jawa Pesisir, Saturday Jawa Tasik, and Sunday for Kampung Bandung.
For further information or reservation about this Ramadhan Package of Ubud Hotel and Cottages Malang you could call (+62341) 571313 ; 5071458 or by WA (081133382287) or IG @ubudcottagesmalang. Or through their official website at www.ubudcottagesmalang.com.