Education
3000 Students of Batu Did the Collosal Dance in order to Celebrate the Hardiknas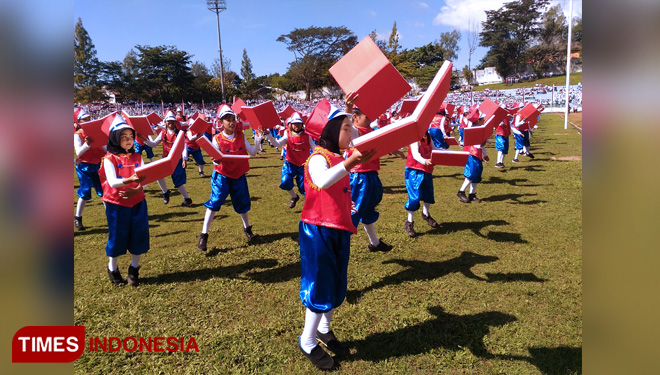 TIMESMALAYSIA, BATU – The colossal dance which was held at the Stadion Gelora Brantas, Batu, Thursday (2/5/2019) which was danced by 3000 students of kindergarten to senior high and also the students with special needs on the Hardiknas (National Education Day) took everyone's breath away.
All the students dancing in harmony and a good rhythm. This dance which was called as Swarna Cita Bakti was symbolizing a high hope of the education development in recent times.
The participants of the dance symbolizes that education could be gain by everyone from children to adults including those who need special treatments.
"Their performance was remarkable, and enlightened us to be more enthusiastic in developing the educational system in this country. And Hardiknas is the right moment to start increasing our human resources starting from the very basic," Dra Hj Dewanti Rumpoko M.Si, Batu Mayor said.
After the colossal dance, the Mayor of Batu also deliver the educational symbol to the Head of Educational Department Batu as well delivering some trophy to the outstanding students and teachers as her support and appreciation to what they have been achieved during the Hardiknas. (*)