Education
Jesslyn Calysta, will be an Indonesian Representative at The 18th Chinese Bridge Competition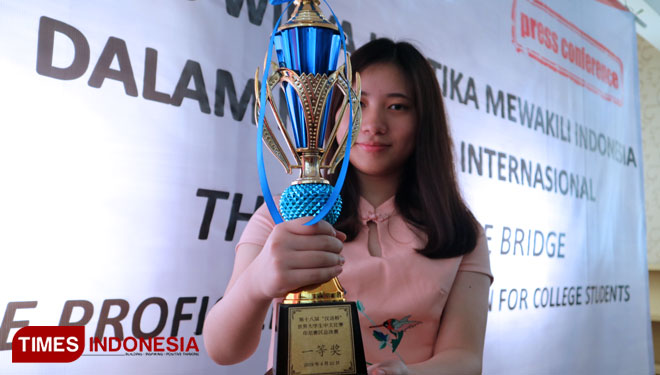 TIMESMALAYSIA, SURABAYA – Jesslyn Calysta, a student of Chinese Language program of Widya Kartika University Surabaya will represent Indinesia at The 18th Chinese Bridge (Chinese Proficiency Competition for College Student) by the next July 2019.
She has shown her skill by gaining the first place on the national level of Chinese Bridge competition which competing with some other foreign participant from Australia, Europe, America, and Asia.
Jesslyn mengungkapkan rasa syukur atas pencapaian tersebut. Meskipun mengaku belum ada persiapan khusus, ia pastikan siap melaju di Chinese Bridge International Tiongkok.
"I haven't prepared anything since I just finished the Chinesr Brigde in Jakarta, but surely I need to prepare harder and harder since it's an international scale competition," she said.
On this upcoming competition, this 19 years old girl was intending to get the first position. Still according to her, Chinese language was not her favourite major when she was a child. But since she got so many trophy and achievement on it, she starting to like it.
The 18th Chinese Bridge is an competition to test the basic knowledge about Chinese language and culture which is held by the Confucius Institute. And Jesslyn Calysta was one of a bright star that is match to the qualification. (*)