Life Style
Enjoy the Holiday with the Freshness of Strongbow in 'The Island of Gods'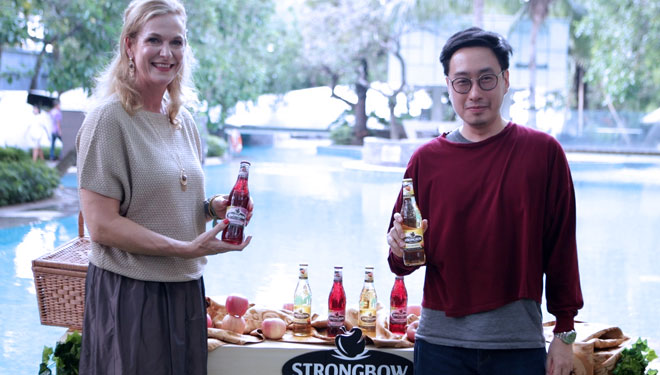 TIMESMALAYSIA, BALI – The busy routines, a lot of workload and pressures could make you feel tired and bored. Bali, the Island of Gods has been the one of the most favorite tourism destinations for the people to have a vacation. Currently, Strongbow, the world's number one brand of apple cider is now available in the Island of Gods, Indonesia.
"The beautiful nature of Bali Island is the perfect place to have a vacation. A glass of Strongbow, the fermented apple cider, served cold, is the perfect companion for your perfect vacation. It could restore our energy and boost our mood. You can enjoy it all by yourself or share with your friends," said Mariska Van Drooge, the Marketing Director of PT Multi Bintang Indonesia Niaga.
Imported from the apple gardens in England, Strongbow contains more than 25% of apple juice concentrate and 4.5% alcohol from the natural fermentation process.
This combination produces a fresh and sweet taste that can be enjoyed by anyone. In Indonesia, Strongbow is available in two flavors, namely golden apple, and its new variant, dark fruit.
Previously, Strongbow had established Strongbow et Jeffry Tan Capsule Collection, which came from the collaboration between Strongbow and a famous Indonesian designer, Jeffry Tan. This collaboration produced a product that is suitable for the needs of urban women.
This collaboration showed that nature and urban lifestyle could goes well in a unique, simple way. It was symbolized by the white color that shows the pure apple in Strongbow Golden Apple, and red, burgundy, and midnight blue that represents Strongbow Dark Fruit.
In Bali, Strongbow could be purchased at many cafes and supermarkets. Strongbow could be a perfect companion for the urban people in the Island of Gods. "Enjoying a glass of Strongbow could give you the natural freshness of apple cider. Enjoy a glass of Strongbow Apple Cider to accompany your perfect vacation," said Mariska. (*)