News
An Exotic Guitar Given by I Wayan Tuges to The Berry Biz Hotel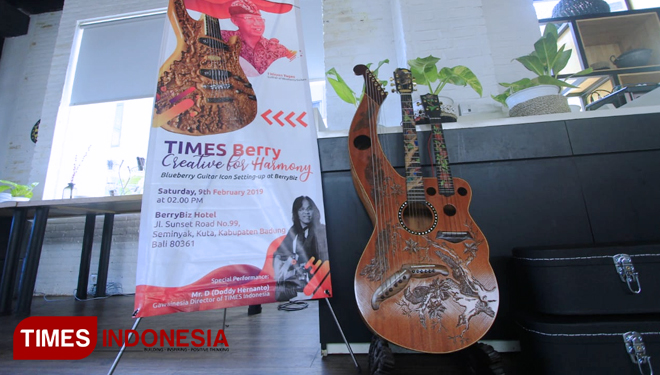 TIMESMALAYSIA, DENPASAR – A musician will know who I wayan Tuges is. But for public that doesn't know, I wayan Tuges is a famous guitar maker in the world. One of them is The Blueberry Guitar. And this guitar is now put in the VIP room of The Berry Biz Hotel.
The guitar was also given as a symbol of the grand opening TIMES Indonesias' office in Bali in the hotel itself at Jalan Sunset Road No.99, Kuta, Badung Bali on Saturday (9/2/2019).
"I am very proud to be a witness of this exotic guitar existence. The engraving full of mystical beliefs of Balinese that means to disallow the negative energy coming in to this hotel," Desy Diana the Berry Bizz Hotel manager said.
Still according to her, the guitar is an amazing art and also priceless. And surely it will add more experience to the customers toward the hotel.
Meanwhile, I Wayan Tuges said that he is so happy to have jis guitar in this hotel.
"I need more space like this to put my artwork. Most of my work only known by foreigner but less appreciated in our own country. By having such kind of space I hope that people will know more about my art as a Balinese cultural heritage," he said.
This Exotic Bleuberry guitar could be found in Berry Bizz Hotel whenever you stay or visit this hotel. (*)