Education
The Desert Storm Detector's Tool Made by ITB Lecturer Exhibited in Saudia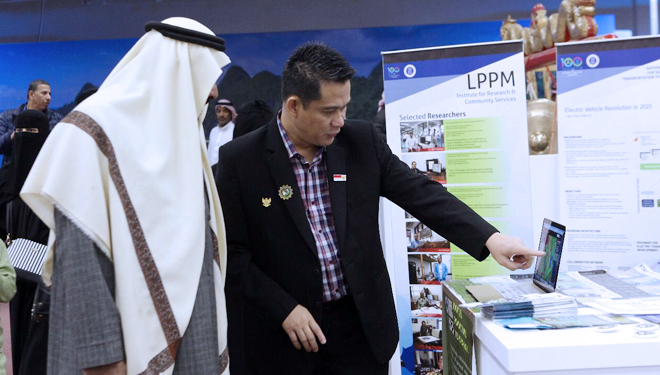 TIMESMALAYSIA, BANDUNG – The desert storm detector's tool in the form application named Hydrometeorological Hazard Early Warning System (H-HEWS) has just been exhibited at the 33rd Janadriyah Festival in Riyadh, Saudi Arabia. The tool found by an Indonesian people as well an ITB lecturer (Bandung Institute of Technology), Dr. Armi Susandi.
The system can provide information about predictions of sandstorms, heat waves, heavy rains and other extreme weather using satellites with accuracy of almost 85 percents.
"The system can predict the next three days every three hours," said Armi as reported by TIMES Indonesia from ITB website, Thursday (24/1/2019).
According to Armi, this new application can only be operated through the website (computer) now, for further development it will be designed especially for Android and iOS.
"Through the application, ITB opens opportunities to cooperate with Saudi Arabia in the use of this application," he said.
However, Armi added that the application is in the process of patent Intellectual Property Rights (IPR) now. Even though at the moment of exhibition it was still in the form of a prototype, it's been tested immediately at the exhibition event and known 80 percent well functioned.
"This system is designed to be combined with other data. For example the population data, hospital data, river data, house data, roads, etc. It is ITB product and we made it only two weeks before this festival," he said.
The main features in the system that use Arabic language are predicting temperature, rainfall, wind direction and speed, humidity, and air pressure. As well as disaster warning features for potential disasters of sand storms, strong winds, heat waves, and heavy rain.
"Why do we make it special, because in order to realize ITB as an entrepreneurial university, it will distribute our technology products so that they are utilized by the community," said Armi.
According to him, the application has a very good level of accuracy because Saudi Arabia doesn't have many mountains and valleys.
"To predict in the desert area is easier than in the archipelago. Even the tools can be developed with accuracy each kilometer. But it needs a bigger server. Depends on later requests from Saudi Arabia," said the ITB lecturer as well the inventor of the desert storm detector's tool, Dr. Armi Susandi. (*)