Education
The Editor in Chief of TIMES Indonesia Motivated the Students of UIN Malang to Spread Positive Information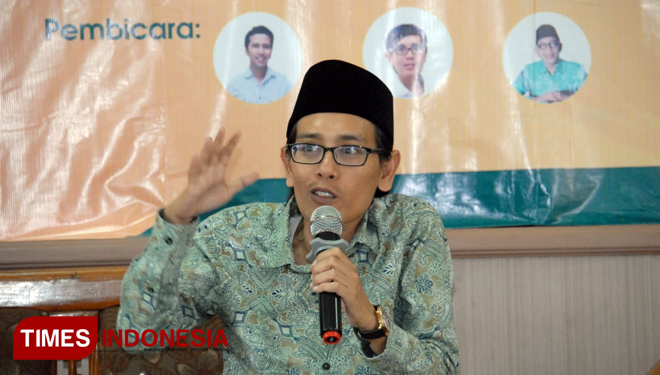 TIMESMALAYSIA, MALANG – In this era of technology, the young generation should be able to use the technology wisely. The Editor in Chief of TIMES Indonesia (timesindonesia.co.id), Yatimul Ainun, asked the young generation, especially the students of UIN Malang to spread the positive information.
In the event of Gelar Wicara Kebhinekaan & Silatwil BEM/DEMA PTKI of East Java at UIN Malang on Saturday (12/01/2019), Ainun said that the millennial generation should be smarter in using the social media, and be wiser in responding to the information.
"You should be smart in using the social media. Be a creator and innovator so that you would not be the slave of social media," he said.
Ainun stated that currently, the society is not wise in using social media. They do not improve their creativity, but they spread negativity. This mindset should be changed by using the technology.
"The positive trace is important in this era as any companies could trace and search the information of someone only by using Google," he said.
Therefore, Ainun gave some tips for creating the right information by not using the ambiguous or negative content that could hurt anyone else. The content should be useful, and it should avoid negativity by using sentence that is not provocative.
He also gave the survey result of the internet users. There are 31.3 million of people updating information on the internet, and there are 27.6 million people updating their work. "A person is recognized from their trace and work. Therefore, let's make a positive trace," he said.
In this event, DEMA UIN Malang invited the Leader of PBNU, Robikin Emhas. DEMA UIN Malang also invited a speaker from TIMES Indonesia, Yatimul Ainul, the Editor in Chief, the Rector of UIN Malang, Prof. Abdul Haris, and the Leader of Gusdurian Malang, Ilmi Najib, as the moderator. (*)