Education
The Rector of UIN Malang Asked BEM and DEMA to Use Technology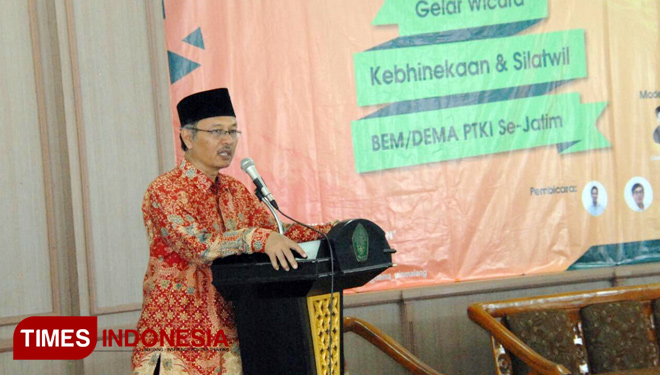 TIMESMALAYSIA, MALANG – The Rector of UIN Malang, Prof. Abdul Haris stated that BEM and DEMA should catch up with the digital technology development and use it for mutual benefits.
This thing was said by Prof. Abdul Haris in his opening speech in the event of Gelar Wicara Kebhinekaan & Silatwil BEM/DEMA PTKI of East Java at UIN Malang, on Saturday (12/01/2019). In this opportunity, Haris stated that the young generation should use the technology optimally, especially social media.
He said that prior to Pemilu 2019 (Presidential election), there is much information spread in social media. This information should be responded wisely. Avoid the misleading information or hoax from spreading.
"We may give different opinions or choices, but we have to remember that we are one," said Haris.
The Rector of UIN Malang expected that the students should have a strong 'belief' in this era of technology. The 'belief' could be in form of the strong faith, ideology, or humanity.
"The students should give the good contributions for the country in the future," he said.
He said that one of the easiest ways is to apply the knowledge that they have for the sake of our benefits, especially Indonesia.
"The students should maintain their skills of science and technology, faith and morality based on the Islamic value," he said.
This event invited the Leader of PBNU, Robikin Emhas. DEMA UIN Malang also invited a speaker from TIMES Indonesia, Yatimul Ainul, the Editor in Chief, the Rector of UIN Malang, Prof. Abdul Haris, and the Leader of Gusdurian Malang, Ilmi Najib, as the moderator. (*)