Economy
A Shoe Seller in the Shop's Terrace Successfully Sends the Children Studying to the College
TIMESMALAYSIA, SURABAYA – A shoe stalls in Praban Street, Surabaya, Mrs. Har has been a shoe seller for decades. Her stall is in the shop's terrace. However, her earning was able to pay her children's study fee up to the college. The middle aged woman kept a smile behind her firmness.
A shining of sun in the afternoon did not dampen her enthusiasm to keep on selling.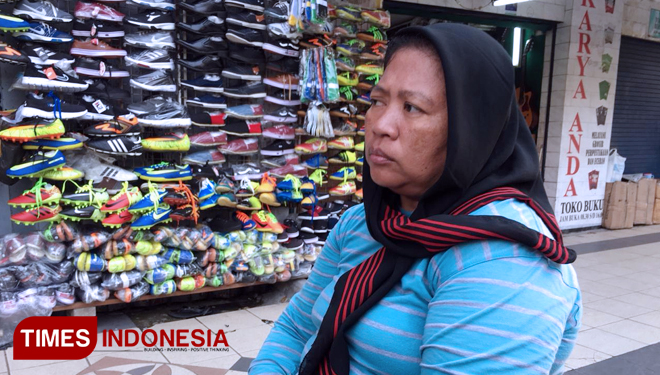 "I have been here since 1988," she began the story on Friday (28/12/2018).
Bu Har, as she is called, only hitched a ride in a shop. Various shoes she arranged neatly on a wood which is leaning against the door of the harmonica
"The one who owns this shop is good, if not, the harmonica's door must have been opened so that the shop looks spacious," she said, pointing to a shop where she is looking for a living.
A few weeks ago, Bu Har admitted that her sale was a little. But she wasn't upset.
"Today is only sold out one, sometimes two for a week, Thanks God, it can still be used for eating," she explained.
In fact, this week she only sold a pair of shoelaces.
"We're accustomed to have a little buyers, I don't have a buyer for one week. I am lack of money for shopping, I also never received capital assistance from the government. Thanks God, even though I have a little buyer, I was even fatter, "she said.
Mrs. Har's effort isn't in vain. She succeeds to bring her three sons study in the university. Even one of her sons graduated and becomes an honorary teacher. It's pride for him and husband.
"While, his younger brother is still in his seventh semester at the Surabaya State Islamic University," continued Mrs. Har.
There is no another idea to start a new of business opportunities, because of limited capital. She wants the success from her long-running business, though she often had to be troubled when the rainy season arrived.
"Yes if I it is rainy, I cover with the plastic," she said.
Little of buyers, according to Mrs. Har, is caused by many prospective buyers who prefer original goods rather than hers.
"Many go to the mall, buy the original one. Children now prefer original goods even though they are expensive, they save money to buy original product, "she said wisely.
In addition, the obstacle to the prohibition of parking on the sidewalks also added to the burden of shoe sellers at Praban street, Surabaya.
"Signs of parking prohibition are also as the obstacle. Thus it is not buyers who park then cause traffic jams, however there are too many vehicles, "said the woman natively from Sumenep, Madura. (*)