Education
The Theme of National Seminar Held by DEMA FITK UIN Malang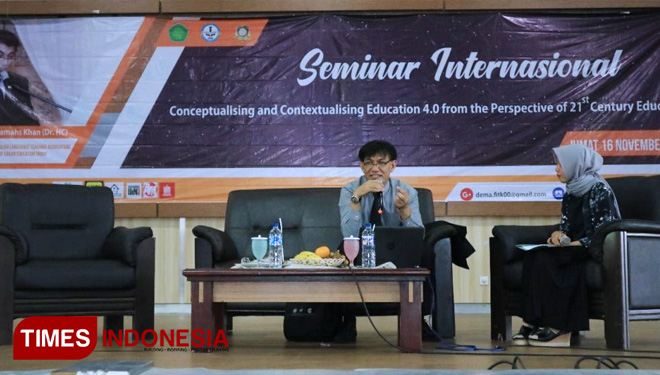 TIMESMALAYSIA, MALANG – DEMA FITK UIN Malang held a national seminar with the theme of 'Conceptualizing and Contextualizing Education 4.0 from the Perspective of 21st Center Education' on Friday (16/11/2018).
This seminar featured Mr. Aslam Khan bin Samahs Khan (Dr. HC), the vice president of MELTA (Malaysian English Teaching Association) as well as the vice executive leader of ERICAN Education Group.
In his explanation, Mr. Aslam said that Education 4.0 is the best teacher to gain various knowledge which explains about the cause, reason, and consequence, the probability of reason and reason, the probability of development, consequence, and the probability of intervention for teaching strategy.
He also said that Education 4.0 is a contemporary learning strategy for research, in which the problem solving related to the brain-based techniques and the technology of information communication that are provided by the scholars from various disciplines, such as philosopher, linguist, chemist, biologist, environmental scientist, physicist, and engineer.
"They have an opportunity to observe their weakness in their own thoughts," he said.
Seminar nasional yang digelar leh DEMA FTIK UIN Malang ini berjaan dengan sukses.
The national seminar held by DEMA FITK UIN Malang was a success. (*)