Economy
Awesome! Now, Banyuwangi Has Kampung Jajanan Gula Merah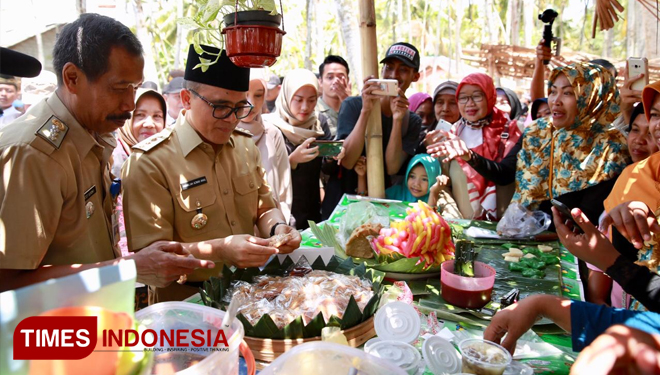 TIMESMALAYSIA, BANYUWANGI – Kampung Jajanan Gula Merah located in Krajan Village, Rejoagung, Srono sub-district, Banyuwangi, East Java, was officially announced by the Regent of Banyuwangi, Abdullah Azwar Anas on Monday (15/10/2018).
"The idea and the construction were from the local residents. I really appreciate it. This shows that the residents have realized their own potentials. Then, they built a plan, collected it, and the result was interesting," said Anas before hundreds of villagers that came to the event.
This culinary village is interesting. It is located in the area of sengon and coconut garden in the center of the village.
There are many traditional snacks in here, especially those made of palm sugar, such as gethuk, kue latuk, dawet ice, klepon, utri, brown sugar layered cake, kue cucur, es degan with brown sugar, cassava, fruit rujak, and sweet brown sugar rengginang. No wonders, because Rejoagung Village is one of the brown sugar center in Banyuwangi.
There is also local menu, sour rujak served in the young coconut shell. There is also organic brown sugar as the local featured product.
"This is an example of a good collaboration between the village and its residents. By using the non-productive land belonging to one of the residents, this culinary village could facilitate the other residents to open their business. I think this is good as it could improve the residents' economy and add income to the village. I hope the other villages could follow this concept," added Anas.
Meanwhile, the Head of the District, Srono Gatot Suyono, said Kampung Jajanan Gula Merah was initiated by the residents. For all this time, the women has been selling their cakes in front of their houses.
"Finally, they had an idea to make a culinary center in this village. They are enthusiastic. Then, together we built this interesting place," said Gatot.
Meanwhile, the Village Head of Rejoagung, Usnatun Sulasiatin, explained that they used brown sugar as the basic ingredients because almost half of the residents are the manufacturers of brown sugar. The brown sugar produced by this village has got into Bali and Surabaya markets.
"The potential is very big. That's why we choose brown sugar as it could increase the economic value of the brown sugar. We guarantee that the brown sugar used here is the organic brown sugar, without sulfite," explained Usnatun.
For the information, the festival held by the Government of Banyuwangi has managed to help the residents in Banyuwangi to develop their creative industry. One of the residents in Rejoagung Village in Srono sub-district has managed to create a culinary destination.
Kampung Jajanan Gula Merah will be open on Saturday and Sunday, starting from 3 p.m WIB (Indonesian Western Time) to 9 p.m. WIB. (*)