Education
The Students of Ma Chung Join Summer Camp Program in Korea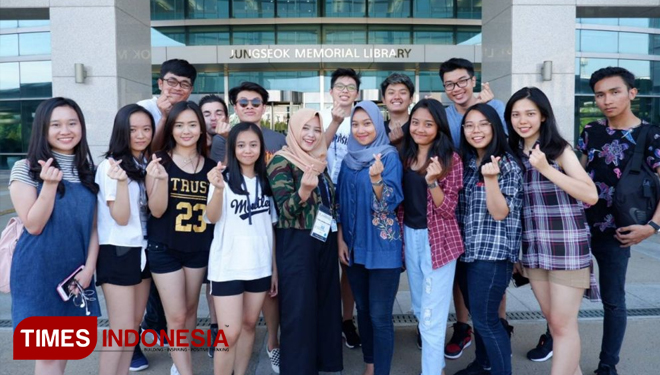 TIMESMALAYSIA, SOUTH KOREA – The chance to join the Summer Camp program in South Korea was taken by Arya Aditya from Universitas Ma Chung Malang. For two weeks, from 23rd July to 10th August 2018, this student from Business Management study program participated in various activities in Korea, along with other students from various countries.
According to Arya, the chance to join Summer Camp should be taken because it could help him widen his perspective.
"From this experience, we realize that we are the part of international society," he said.
He said that during the Summer Camp in Inha University, Incheon, South Korea, he met various people from around the globe. They did not only share knowledge, but Arya also had the chance to widen the networking.
Arya learned about the economy of South Korea which was very advanced. "I know how South Korea could improve their economy," he said.
He also learned about the development of Korean Cinema, such as classic movies to Korean blockbusters. According to him, this knowledge is useful for those who are interested in travelling, photography, videography, and the like.
Arya was actively involved in organizations. He was the leader of Rotaract, the prestigious student activity in the world. Joining the Summer Camp became the part of the result of his hard work.
He wanted to keep learning. This 7th semester student in Financial concentration plans to continue his education by joining the student exchange program to China for a semester in Hunan, China.
He is ready to go with the spirit of learning and the interest on the subjects that will be taught during the student exchange. "I am interested in the subjects, which are related with the innovation in marketing and finance," he said.
Arya shared the tips of joining the student echange program. To be able to join this program, someone should be aware of any available opportunities.
"In Ma Chung, there are so many opportunities, but not all of the students want to take them," said Arya.
"Sometimes they are not confident to study abroad due to the different language and so on. Honestly, I was also afraid to try, but I have the spirit to learn, so I go for it," he continued.
Arya quoted the saying of the CEO of Virgin Atlantic, Richard Branson, as his motivation. It says, "If somebody offers you amazing opportunity but you are not sure you can do it, say yes, then learn how to do it."
He hoped that after he has finished his study in Hunan, the knowledge that he has got could be applied in developing the dragon fruit chips product, along with his friends.
Arya also expected that he could establish his own business and share his knowledge to his other friends. "Perhaps there are still some of my friends that still have not got this opportunity due to many reasons," said this student of Universitas Ma Chung Malang. (*)