News
Church Bomber in Surabaya is Woman Born in Banyuwangi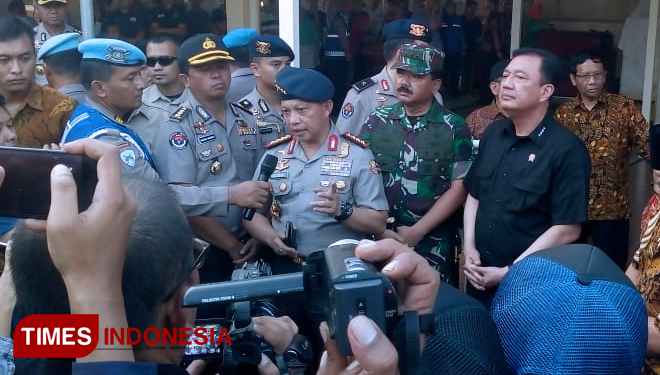 TIMESMALAYSIA, JAKARTA – National Police chief (Kapolri) General Police Tito Karnavian said, there are three people suspected as suicide bombers on Indonesian Christian Church (GKI) Diponegoro street Surabaya, East Java, Sunday (13/05/2018).
Kapolri also mentioned bomb attacks in three churches in Surabaya was executed by one family. They are: Dita Fukrianto (head of the family), Puji Kuswati (wife), and four children, Fadila Sari (12) and Pamela Rizkita (9), Yusuf (18) and Alif (16) are all declared dead.
Confirming related to the emergence of the name of Puji Kuswati, a woman born in Banyuwangi who was involved in the bombing of three churches in Surabaya, the Regional Police chief (Kapolres) of Banyuwangi, AKBP Donny Adityawarman stated that he is still waiting for further development.
The information is the birth of perpetrator in Banyuwangi. But it is not yet certain whether the address is in Banyuwangi. We are waiting for the results of the investigation conducted Densus 88, "said AKBP Donny Adityawarman via phone line, Sunday (13/05/2018) night.
Kapolres suspects Puji Kuswati has moved to Surabaya or other areas and she has not lived in Banyuwangi for a long time.
"Like us. For example the birth is in Banyuwangi but we moved or lived in other areas. So, We are still waiting for more information, "he said.
The Regional Police chief (Polres) has not been able to confirm for a while, whether Puji Kuswati has family living in Banyuwangi.
Reported earlier, The National Police chief Gen. Tito Karnavian stated that suicide bombers in three churches in Surabaya came from one family. They commit suicide bombing by splitting to three blast points.
"The perpetrator is allegedly in one family," said Tito Karnavian in Surabaya. (*)