Life Style
Beautify yourself, Beware 4 Content of Dangerous Creams for Your Face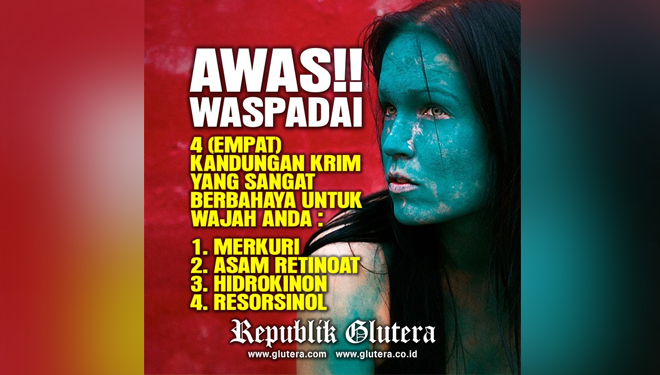 TIMESMALAYSIA, JAKARTA – Having clean, bright and fresh face becomes the dreaming of everyone, especially for the women. In order to get it, they do facial treatment using cosmetic products. However, be aware of the content of harmful creams to avoid health risks.
Related to the problem, The Food and Drug Supervisor Institution (Badan POM) bans and confiscates the circulation of cosmetics products sold freely in Indonesia, including those containing mercury, retinoic acid, hydroquinone and resorcinol.
Here's more information about the risks of the content of a dangerous cream for the face.
1. Mercury The ability of mercury hampering the formation of melanin, making it widely used in creams or skin lightening soaps for the face. The content of mercury in face creams can reach 10 percent, while soap reaches 3 percent.
The health risks from mercury include skin rashes, skin discoloration, scarring, and more susceptible to fungal and bacterial infections. In addition, there is also the risk of kidney damage and psychological disorders such as anxiety, depression and or psychosis. Even, mercury that has been wasted through water channels can also disrupt the environment.
Moreover, Pregnant women who exposed to mercury, it will be affected the fetus. So that it will have the risk of neurogical abnormalities. Similarly, in breastfeeding mothers, mercury can be passed on to infants through breast milk. Babies are also very sensitive to mercury. It can affect the development of the brain and nervous system.
2. Retinoic Acid Retinoic acid is able to cleanse the pores, reduce acne, and reduce acne scar tissue. In addition, some of pople are using retinoic acid to reduce wrinkles. In fact, retinoic acid may be given by a doctor to treat warts, if other treatments are unsuccessful.
However, retinoic acid has a risk of irritation and drying of the skin, sensitive to sunlight, and discoloration of the skin to swelling or redness of the face. That is why the use of products containing retinoic acid should be through consultation and prescription of doctor.
3. Hydrokinon Hydrokinon is used to brighten skin that has black spots. But the prolonged use can cause more sensitive to sunlight, include the condition of stinging heat, redness, and dry skin. Some risks are heavier than hydrokinon, including chapped skin, blister or darkened skin. There are also some of serious reactions to hydrokinon, such as headache, rash, itching, swelling of the face and throat, and difficulty in breathing.
4. Resorcinol Resorcinol can be used to repair rough or scaly skin, and helps curing skin infections. Resorcinol is also commonly used as a remedy to overcome the pain and itching of the skin, eczema, warts, psoriasis, calluses, and other skin diseases.
The risk of resorcinol especially on the prolonged using, it can trigger headaches, fatigue, bluish skin, irregular heartbeat, stiff, shortness of breath. Those are the side effects of facial treatment using cosmetic products. Be careful when using cosmetics that are sold freely, including hazardous creams for the face. (*)