Sports
Do You Like Football? Here's The Schedule on Television in Period of 7-11 May 2018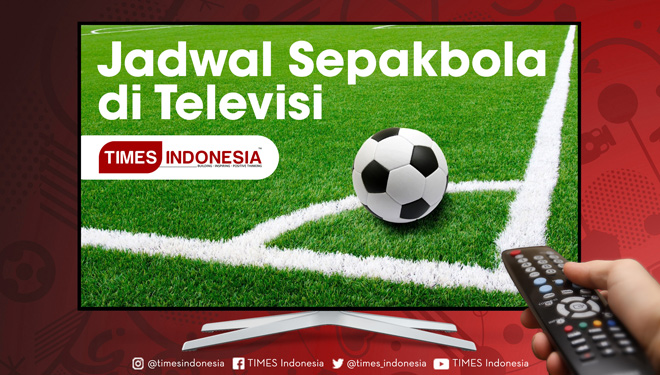 TIMESMALAYSIA, JAKARTA – Football matches are still as favorite spectacle for public at large. Especially the European Football that has been heading to the final lap. Surely you will not miss a favorite team match in this week's game.
Such The match between Sevilla Vs Real Madrid in La liga. In addition, there are also some matches from the Premier League, which go ahead to final position while, there are some in which in the degradation zone.
However, there are also interesting matches from the Asian region and Major League Soccer in US. It will always make you curious to support your favorite one. Here is the schedule of football match on national television for the period of 7-11 May 2018 in West Indonesian Time (WIB).
MONDAY, 7 MEI 2018
LIGA 1
18.30 WIB - PSIS Semarang vs Persela Lamongan - O CHANNEL
SUPERLIG TURKI
23.55 WIB - Besiktas vs Kayserispor - BEIN SPORTS 2
TUESDAY, 8 MEI 2018
LA LIGA SPANYOL
02.00 WIB - Leganes vs Levante - BEIN SPORTS 2
AFC CUP
18.30 WIB - Home United vs Persija Jakarta - FOX SPORTS 1, RCTI
LIGA CHAMPIONS ASIA
18.30 WIB- Tianjin Quanjia vs Guangzhou Evergrande - FOX SPORTS 2
WEDNESDAY, 9 MEI 2018
FINAL COUPE DE FRANCE
02.00 WIB - Les Herbies vs PSG - BEIN SPORTS 3
PREMIER LEAGUE INGGRIS
01.45 WIB - Swansea City vs Southampton - BEIN SPORTS1
THURSDAY, 10 MEI 2018
PREMIER LEAGUE INGGRIS
01.35 WIB - Chelsea vs Huddersfield - BEIN SPORTS 1
02.00 WIB - Leicester City vs Arsenal - BEIN SPORTS 3
02.00 WIB - Tottenham Hotspur vs Newcastle United - BEIN SPORTS 3
02.00 WIB - Manchester City vs Brighton & Hove Albion - BEIN SPORTS 1
LA LIGA SPANYOL
02.25 WIB - Sevilla vs Real Madrid - BEIN SPORTS 2
SUPERLIGA ARGENTINA
05.55 WIB - Gimnasia vs Boca Juniors - BEIN SPORTS 1
MAJOR LEAGUE SOCCER
06.50 WIB - Toronto vs Seattle - BEIN SPORTS 2
08.55 WIB - LAFC vs Minnesota - BEIN SPORTS 2
07.35 WIB - Chicago vs Montreal - BEIN SPORTS 3
FRIDAY, 11 MEI 2018
PREMIER LEAGUE INGGRIS
01.40 WIB - West Ham United vs Manchester United - BEIN SPORTS 1