Education
UIN Malang Cooperate With BRI to Increase Accountability and Transparency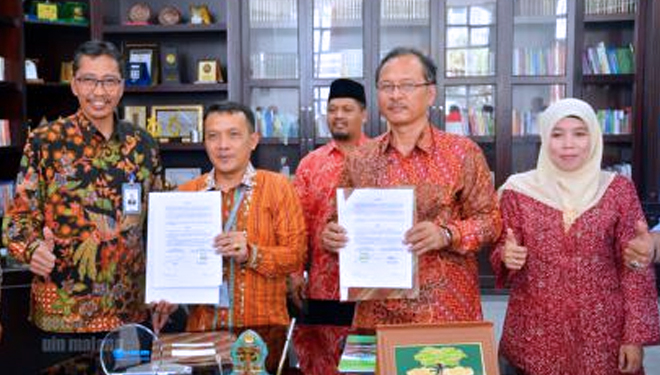 TIMESMALAYSIA, JAKARTA – The moment of National Education Day today is special for UIN Malang and Bank Rakyat Indonesia (BRI) Martadinata Malang. Both institutions made a commitment to enhance education toward cooperation.
Dr Hj Ilfi Nurdiana, Vice Rector 2 UIN Malang said "The draft of agreement was signed in Friday, April 27. This cooperation is part of the commitment of both institutions to improve the quality of education in universities, especially UIN Malang," (TimesIndonesia.co.id. 2/5/2018).
The cooperation of educational development programs that will be conducted by these two institutions are; first, related to administration and financial transparency.
BRI accepts the students deposit through BRI services. Branch Manager of BRI Malang Martadinata Muhammad Zulham Salahuddin said that the cooperation is one of Bank BRI commitment to give support in the field of education.
"UIN Malang students are spread all over the country, even abroad. This makes it easier for students and their parents when they want to pay tuition fees or single tuition. Because our network is everywhere," explained Zulham.
Infact, UIN Maliki Malang is the largest Islamic University in Eastern Indonesia. Nowadays, there are 16,000 students studying in the campus. Each year the number of students increases.For 2015, there are 62.769 applicants, 70.669 in 2016, and in 2017 there are 77.150 applicants.
"The increasing number of enthusiast is one of the indicators that UIN Maliki becomes one of the main choices for students," Said Rector of UIN Maulana Malik Ibrahim Malang, Prof Dr H Abdul Haris, M.Ag.
"UIN Malang students not only come from Indonesia, but also there are foreign students who come from various countries."
"This is in preparation to be the campus of International Recognition and Reputation," Said Haris.
Zulham explained that BRI also provides BRIGUNA Education Credit facility. BRIGUNA is one of Bank BRI's business units to develop a credit scheme (facility).
"Nowadays, BRIGUNA is used for housing and vehicle loan facilities. In terms of education, we maximize to provide productive credit, in form of loans for students who want to continue Post-graduate in UIN Malang," he Said.
"So, if there are students who buy stationary, can use our credit card. Then, the bill is connected to DIPA APBN / APBD. So, the students pay only their credit card payments every month," Said Zulham.
Moreover, To support the transparency and accountability program at UIN Malang, BRI Corporate program will also be implemented. This program supports cashless transactions that will be done UIN Malang. That is, non-cash electronic transactions.(*)