Education
Processing Fish Waste Into Diesel, Two ITS Students Got Award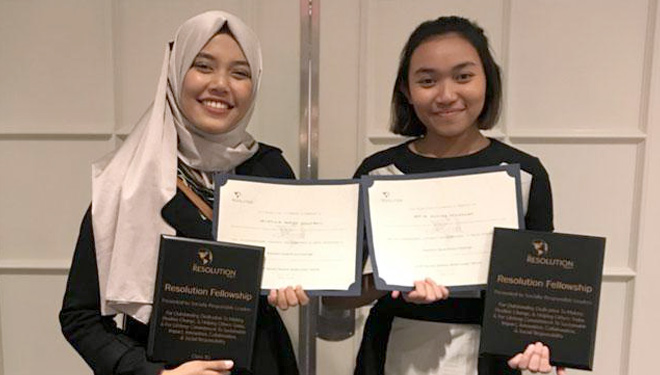 TIMESMALAYSIA, JAKARTA – Sepuluh November Institute of Technology (ITS) Surabaya achieved an accomplishment in international level.
In this occasion, two out of eight representatives of ITS in 2018 Harvard National Model United Nation succeeded in achieving Social Venture Challenge Award.
SVC Award is an award for team who produces social project innovation for the society.
Adela Almira Hermawan, student of Industry Engineering Department of ITS and Salsabila Annisa Rengganis from Marine Engineering Department of ITS are Indonesian representatives who got the award.
With their project entitled "Vish Diesel", Adela and Salsa introduced maritime potential in Indonesia to the world. They empowered fishermen in Brondong Village, Lamongan, East Java to process fish waste into diesel fuel.
According to Salsa, it was not easy to achieve the award. She and the team prepared themselves since July last year. "It was because of our effort and prayer, we are grateful for this award," Salsa explained, in an official notice from ITS, Thursday (22/2/2018).
Besides Adela and Salsa, the other ITS teams who went to Boston to compete in 2018 HNMUN were Nashua Fajriani Putri, Leonard, Mumtaza Rizky Iswanda, Rachmad Ananto Wicaksono, Qaedi Aufar S. Bantasyam, and Yohanes Bayu S. Nugroho.
They were expected to arrive in Indonesia on Tuesday (27/2). "Previously, ITS has won the same award in 2015 and 2016, Salsa explained.
In the prestigious event, she continued, three representative teams from ITS were successful to continue competing until the final round. One of the teams won the award.
She claimed that ITS planned not to send their representatives this year. However, after some consideration, eight best representatives were selected to be ready to compete.
As a matter of fact, HNMUN is a simulation competition of the United Nations assembly held annually by Harvard University, Boston, Massachusset, the United States.
"This competition has been held for 64 times and attended by thousands of students from throughout the world," Salsa ended her statement. (*)