Education
Ali, the Inspiring Disabled Student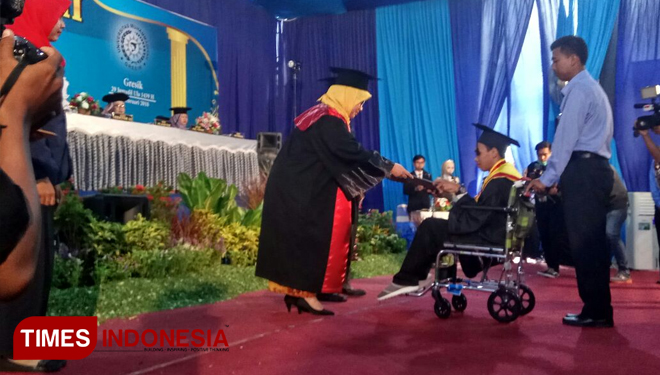 TIMESMALAYSIA, GRESIK – Never give up and possess high motivation in learning are things that are always held by Muhammad Taufik Ali, the disabled student from Universitas Muhammadiyah Gresik (UMG).
"I am not ashamed of my condition. I am always encouraged to finish my study," Ali said, Thursday, (15/2/2018).
In fact, this student of Information Study Program, UGM, needed the help of his friends to come to the class. "I always need to go on my wheel chair," he explained.
The fruitful result of the high motivation was really sweet. Ali was able to finish his study on time or for 4 years.
"Thanks God, I got the bachelor degree in Computer (S.Kom) from Universitas Muhammadiyah Gresik," Ali confirmed.
His motivation greatly motivated his friends. One of them was Yoga who always accompanied Ali to finish his study.
"We are amazed of his motivation. We always give Ali the support especially in finishing the final project," Yoga said.
Similar statement was delivered by the Dean of Engineering Faculty, Pregiwati Pusporini. She explained that Ali's character inspired the students to never give up.
"I saw that Ali was eager to finish his final project. He was often seen in Algorithm Laboratory of Information Engineering," Pregiwati Pusporini pronounced.
Ali's success to become a bachelor in Computer UMG has been proved to be a part of educating the children of the nation without considering the student's condition. "As long as the student is motivated, UMG is ready to accommodate the education," the graduate of Australia University confirmed. (*)